November 21, 2022
After a two-year hiatus, All Ages Read Together (AART) hosted their 10th annual ~not too spooky~ Halloween Hoedown. Thanks to the event's generous sponsors, in-kind donations, and guests, they raised over $35k – the most in the event's history!
"We are incredibly thankful for our generous AART community of donors!" said Michelle Sullivan, AART's Executive Director. "Given we are still emerging from the pandemic, we were not sure what to expect. However, I was reminded of one thing – never underestimate the desire from our community to support AART's mission of providing free preschool in under-resourced communities in Fairfax and Loudoun Counties!"
Last year, The Community Foundation of Northern Virginia published a report that showed only 29 percent of children at that income level are in school, compared to 41 percent nationally. However, children in Northern Virginia who come from higher-income households are enrolled at a 67 percent rate, making this the largest preschool income disparity in the entire country.
"Simply put, Northern Virginia has one of the lowest preschool enrollments for children living at or near poverty," shared Lara Major, Chair of AART's Board of Directors. "Programs like AART are working hard to close the gap so more children in our region can enter kindergarten ready to learn on day one."
100% of the proceeds raised will go to AART's portable early education school-year programming in Alexandria, Centreville, Falls Church, Herndon, Hybla Valley, Leesburg, and Sterling!
Check out the 10th Annual Halloween Hoedown Event! Click the image below or visit https://vimeo.com/773496704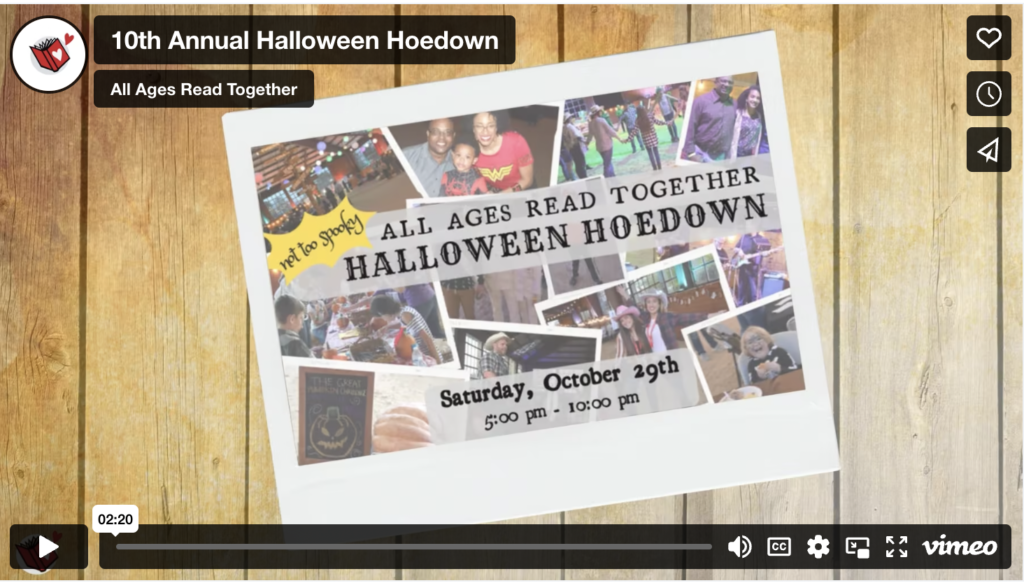 With special thanks to the following:
Autobahn Indoor Speedway
Bear Chase
Bia Kitchen
Bobbie Schaufeld
Books-A-Million – Leesburg
Broad Shadow Farms
Carol Jameson
Chantel's Bakery
Cindy & Rich Schaufeld
Claude Moore Charitable Foundation
Debbie White
Diane Nowotny
Dulles Golf Center & Sports Park
Eddie Pockey Band
Erin Austin
Fabbioli Cellars
Fire Works Pizza – Leesburg
Grace Shihadeh
Howard Hughes Medical Institute – Janelia Research Campus
Jennifer Stecklow
Judi Garlick
Karen Schaufeld
Langhorne Custom Homes
Lara Major
Leslie Kendall
Legacy Farms
Loudoun Youth
Michelle Sullivan
Mom's Apple Pie Company
Monique Duke
North Italia – Reston
Old Hickory Golf Club
Raspberry Falls – Golf & Hunt Club
Riverside Dental
Rogers & Company
Summer House Santa Monica – North Bethesda
Sandy Schihadeh
Susan McGuigan – Today's Look
Schaufeld Family Foundation
Tamar Datan
Terraforma Church
Tuscarora Mill