Universal preschool does not exist in Virginia; coupled with the high cost of living, many working-class families and those living in under-resourced communities must prioritize shelter and essential utilities over the cost of preschool. Data tells us this is true.
>>> Donate to AART's End-of-Year Campaign <<<
Only 29% of low-income children in Northern Virginia are enrolled in preschool, compared to 67% in higher-income households – making this the highest income disparity of preschool enrollment in the entire country (Hughes).
On average, children from low-income families and those at risk for academic failure start kindergarten 12 to 14 months behind their peers in pre-literacy and language skills (U.S. Department of Education).
If children cannot master reading at a basic level by the third grade – they are six times more likely to leave school without a high school diploma (Hernandez).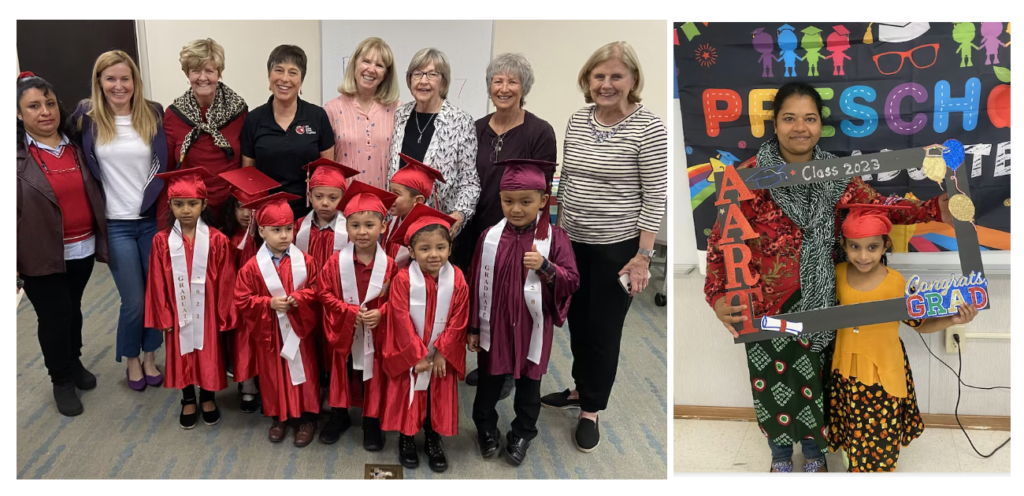 All Ages Read Together helps fill the preschool opportunity gap in Northern Virginia. Our program is unique because we are portable and operate within in-kind spaces to keep our costs down. You will find our classes in affordable living communities, libraries, senior centers, community centers, and places of worship in Loudoun and Fairfax Counties.
>>> Donate to AART's End-of-Year Campaign <<<
And, as we've expanded our program to new locations across Northern Virginia – we've added 11 classes since 2019! Our programs are critical for students and their families, and we want to ensure that all of our new students have everything they need to succeed, including lots of books! Our students take home books every week to help build their personal libraries, help them practice literacy skills on their own, and foster a positive reading environment at home.
With this in mind, AART is aspiring to raise at least $25,000 during our end-of-year campaign to help our new students have all the books they need to be successful this year.
To support our programs, you can…
Give $25.00 to donate 6 books
Give $54.00 to donate a week's worth of books for one class
Give $160.00 to donate a month's worth of books for one class
Give $490.00 to donate 3 month's worth of books for one class
Give $1,150.00 to donate half a year's worth of books for one class
>>> Donate to AART's End-of-Year Campaign <<<